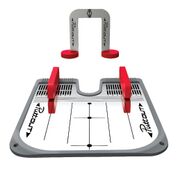 PuttOUT Training Mirror
Complete your PuttOUT home putting studio with the latest PuttOUT product release. The PuttOUT Mirror Trainer and Alignment Gate is designed to work with the PuttOUT Pressure Putt Trainer and the PuttOUT Pro Putting Mat, however you can also use it on its own.
Designed to give instant feedback on shoulder alignment but also compact enough so you can take practice anywhere. A steel construction and anti-scratch coating gives the mirror long-lasting durability and the spiked rubber back case ensures an anti-slip contact to the green or mat, without the need for tee's. The indentation for ball positioning allows your putter to sit closer than traditional putting mirrors.
Practice More. Putt Less.
What's in the box?
PuttOUT Putting Mirror Trainer
Alignment Gate
Magnetic Putter Guides
Drawstring Bag
Mirror dimensions: 24cm x 20cm x 0.5cm